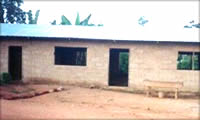 Construction in progress
With the sponsorship of the founder, Nicholas Manu, WHERE FOUNDATION was able to construct a 5-Classroom block for the Bediakokrom L/A Primary School.
Lack of finance from the District headquarter severed the long overdue maintenance, leading to the collapse of the classrooms following a severe rainfall and disruption of teaching.
The picture top left shows the ruins of the building being inspected by the Queen mother of the village with the Assembly man and head teacher of the School, Mr. Ben Owusu.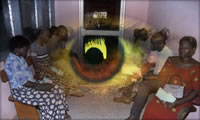 Our mission is
to provide Vision for our vision (Visual and Vision Training and Screening)?
Providing vision to our national vision is preparing the leaders and national builders of tomorrow with good vision in real meaning of vision.
Optometric vision therapy, also referred to as visual training, vision training, or orthoptics, is a treatment regimen to correct or improve specific dysfunctions of the vision system identified by standardized diagnostic criteria. It includes, but is not limited to, the treatment of strabismus and other binocular vision or convergence dysfunctions, amblyopia, accommodation, ocular motor function and visual-perceptual-motor abilities.